Watch The Trailer

About The Film
In January 2005, an American man and Iraqi woman joined forces to document the reality of life on the ground for Iraqis living in the heart of the Sunni Triangle of Iraq. THE ROAD TO FALLUJAH follows the true story of the filmmakers who became the only outsiders to live with the people of Fallujah following the November 2004 battle that destroyed their holy city. The film takes an in-depth and humanizing look at the issues in Iraq, seeking avenues to peace from the horrors of war. The events surrounding the battle of Fallujah are a microcosm of America's policy decisions in Iraq. As one American Military Commander said, "As went Fallujah, so went Iraq." With unparalleled access to the reality on the ground, THE ROAD TO FALLUJAH provides a human perspective on U.S policy in Iraq, offering a new direction towards solutions to the current crisis and a guide to help shape future foreign policy decisions. A joint production between American and Iraqi filmmakers, THE ROAD TO FALLUJAH includes interviews with the Iraqi civilians and refugees, resistance and foreign fighters, members of the American Military and Congress, media analysts, and Islamic scholars. The film also includes interviews with world leaders of peace, including Archbishop Desmond Tutu, the Dalai Lama, and Thich Nhat Hanh. This is the story of the only outsiders who've been able to enter the city and live with the people of Fallujah since the battle, record their stories, and share the footage with the world. Their story is a story of peace.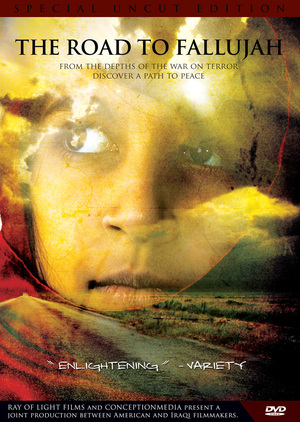 Ray of Light Films and ConceptionMedia
A joint production between American and Iraqi filmmakers
Directed by Mark Manning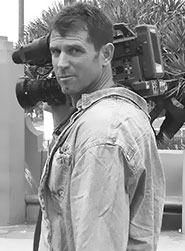 Mark Manning Director, ProducerMark Manning began his career as a professional deep sea diver working in the offshore oil fields for 22 years, diving in depths of over 400 feet and working in all aspects of the diving industry including; underwater burning and demolition, deep saturation, underwater robotics and submarine piloting. In February of 2002, Manning retired from his diving career, decided to put this problem-solving skill set into socially responsible film making and founded ConceptionMedia, an independent film production company specializing in documentaries. Manning is currently involved in multiple projects that intend to connect people to their common humanity, bridge divides and find common ground be factual and truth-base presentations of issues.

Natalie Kalustaian Executive Producer, Producer, Creative Consultant
Natalie Kalustian has been producing films since 2004, and is involved in all aspects of film production including writing, editing, directing, artistic development and graphic design. She has a background in newspaper design and a B.A. in English from the University of California, Santa Barbara. Natalie also holds an M.A. in Healing Science and, when not producing films, maintains a private healing practice. Her passion for filmmaking lies in its power to transform and heal through socially-conscious, balanced, and informative media.

Michelle Rhea Executive Producer
Michelle Rhea was born and raised in Texas and grew up hearing daily about the Vietnam war. She clearly remembers the day that war "ended", and at 12 years old she naively believed lessons were learned and there would never be another such war. Alas, not only was that war not yet truly over, there were always others. Many years later, Michelle moved to California to raise her son in a (hopefully) more liberal environment than Texas might provide. Together, Michelle and her young son marched up State Street in Santa Barbara to protest the impending invasion of Iraq. In addition to her interest in socially conscious films, Michelle is a poet and photographer and a Secular Humanist activist. Some of her poems and photographs can be seen online via her website: MichelleRhea.com

RANA AL-AIOUBY Middle East Producer, Camera
Rana Al-Aiouby was born in Baghdad, Iraq in 1972. She received a degree in French literature and language from Al-Musstanssria University Baghdad, in 1996 and worked as a private tutor until the US-led invasion in 2003. She then did research and interpretation/translation for the following news organizations: BBC-TV News (Newsnight), BBC website, ABC News (Nightline with Ted Koppel), Al Jazeera, Polish Radio, De Morgen (Belgian newspaper). In 2004, after the second siege of Fallujah, she worked with Mark Manning to co-produce a short documentary: Caught in the Crossfire. In early 2005, she co-founded and serves as executive director of International Peace Angels, an NGO which provides direct humanitarian relief to areas of conflict inside Iraq. Rana has documented the civilian situation in Iraq since the invasion and has become an eloquent spokesperson around the world about Iraqi civilian life, addressing such audiences as the War Crimes Conference in Malaysia, the World Social Forum in Nairobi, and several cities in the UK and United States.

ISAM RASHEED Middle East Producer, Camera
Isam Rasheed was born and lives in Baghdad, Iraq and has been a journalist, producer, and videographer since 2003. Isam has worked on many documentary films for Iraqi satellite channels such as Baghdad TV, Baghdadiya Channel, and Babeliya TV. His work with world media outlets include: British C4 (True Face of War, Baghdad: The Hidden Story), ITV news, ARD Germany Channel, BBC News (The 4th Anniversary of the Invasion), PBS – WBGH Frontline (Gangs of Iraq), ABC Japanese channel (Sourcecode), Sky TV, AiB (Wounded People in Iraq), RCC News Channel, Hiroshima, Japan, Free Speech TV (US) and ConceptionMedia production company (Caught in the Crossfire, The Road to Fallujah).

MAKI AL-NAZZAL Middle East Producer
Journalist and political analyst Maki Al-Nazzal is a media consultant and translator on issues pertaining to the Middle East. Based in Jordan, he is the international coordinator for No More Victims, a non-profit organization that provides medical care to Iraqi children injured in war. He has worked as a field officer with the United Nations High Commission for Refugees, managing a refugee camp in Ramadi. Since the war in Iraq, Mr. Al-Nazzal has served the city of Fallujah in the fields of humanitarian aid, media and civil society. He has acted as a guest expert for Al-Jazeera, IPS, and numerous other media outlets. He offers an extensive range of contacts and a depth of knowledge and experience in regional affairs to journalists, filmmakers, media agencies and non-governmental organizations.

NEIL MANDELBERG Editing Supervisor, Story Consultant
As an Emmy winning film editor Neil Mandelberg has been a respected member of the entertainment industry for over 20 years. He has been involved in many landmark industry series and movies such as Medium, Equal Justice, The Temptations mini-series, for which he received an Emmy nomination, and the ground breaking series Moonlighting, for which he won 2 Emmys. Neil is currently lead editor on the CBS drama, Ghost Whisperer. Neil met Mark a year ago and became involved because he was moved by Mark's passion for bringing the human condition and the consequences of war to the forefront through this film, The Road To Fallujah.

JIMMY GIRITLIAN Editing Supervisor, Story Consultant
immy Giritlian is an active member of the Directors Guild of America, the American Cinema Editors (A.C.E.), the Motion Picture Editors Guild, and the Academy of Television Arts & Sciences. He has been making films since 1968, and has received numerous awards and citations. Jimmy recently completed his assignment editing 3-years of "CRIMINAL MINDS" for CBS and Mark Gordon Films. He met Mark and instantly believed in his story and mission. "Communicating the message and helping to make THE ROAD TO FALLAJUH is truly a labor of love and understanding."

Greg Ellis Composer
Greg Ellis is a master drummer, multi-instrumentalist as a composer whose work can be heard in the major motion picture "The Matrix: Reloaded" and "The Matrix: Revolutions"

LISBETH SCOTT Music
Lisbeth Scott is an extraordinary vocalist and multi-instrumentalist who has appeared with some of the world's largest talent, including John Williams, INXS, John Prine, John Martyn, Tom Rush, and Mark Isham. Scott produced and released four critically acclaimed CDs of her own music, of which Dove, her sophomore effort, was named record of the year in New Age Voice as well as grabbing the Number 2 spot on the New Age charts. She's written and sung on many of Hollywood's greatest films, including the "Chronicles of Narnia," "Munich," "Shrek," and "The Passion of the Christ," for which she received her first Gold Record.

MICHELLE ZIMNEY Translator
Michelle Zimney has extensive training and work experience promoting cultural understanding throughout the world, and has volunteered extensively with programs that facilitate cultural relations through dialogue and educational travel. She received a B.A. in International Relations at Stanford University and an M.A. in Religious Studies at UCSB. She completed a year intensive advanced course in the Arabic language at the American University in Cairo, Egypt and lived in Damascus, Syria for a year as a Fulbright Scholar, receiving an Islamic Studies Dissertation Research Grant. Michelle has worked as a leader of a Global Exchange Lebanon/Syria delegation, a Global Justice radio program host, a researcher for the U.N Alliance of Civilizations Project, a facilitator and coach for Soliya (a dialogue project for university students in the US and Arab world), a researcher and translator for ConceptionMedia and the documentary film The Road to Fallujah, and as a consultant for the Consensus Building Institute, teaching courses and workshops on Mutual Gains Approaches to Negotiation.
No items
Contact Us
If you have comments or would like to get involved use the form below to connect with us or go to ConceptionMedia.net for more information regarding our campaigns.
Live Updates
As the civilian population in Iraq continue to suffer we will be posting updates from our correspondents there.